For a long time, I had only ever associated American composer Frederic Rzewski with his epic, celebrated set of variations on "The People United Will Never Be Defeated". After turning pages for a friend who played his "Winsboro Cotton Mill Blues" on her recital, I became extremely interested in his piano compositions.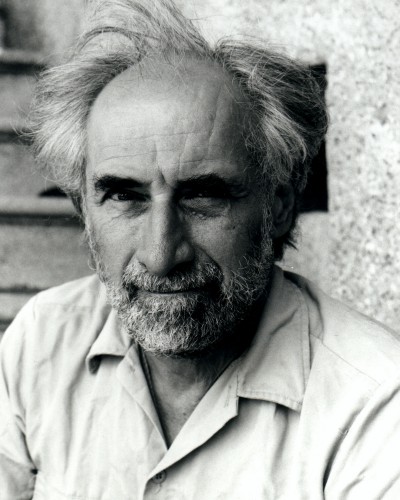 He's got it.
Hit the jump for the article about Rzewski including some sweet videos.
Frederic Rzewski has had a distinguished set of teachers despite his relative unknown on the concert scene. His mentors include renowned choral composer Randall Thompson, and giants of American piano composition Walter Piston and Roger Sessions, as well as the recently deceased Milton Babbitt.
A fine pianist himself, most of Rzewski's most popular works are written for solo piano. What draws me to Rzewski's works are a combination of his social consciousness, incorporation of jazz and popular styles, and creative formal structuring. Rzweski manages to straddle the fine line between the avante-garde and the acceptable. Some of his works contain elements (such as a speaking pianist, more on that later) that are completely novel, yet he works them in such a way that they don't become
novelty
.
One such work, which incorporates elements which I have never seen or heard before in a composition is
De Profundis
. Composed in 1992, this piece requires the pianist to recite a text, Oscar Wilde's
De Profundis
while playing some extremely difficult passages on the piano. The piece lasts over a half hour and includes difficult counterpoint, passage-work, cluster-tones, and a whole bunch of lid-tapping, whistling, and body-slapping...yeah body slapping. Despite how completely insane all of this sounds, the most miraculous thing about the piece is how it all holds together, and furthermore, how absolutely powerful it is.
The performer in this video is slightly over the top. I also don't know how the crowd doesn't laugh at parts of this, I'm pretty sure it's meant to be funny. To make the piece even cooler than it already is (I get really excited about it) the score is handwritten, yet extremely legible, and the only ways to acquire the score are either to
download it for free
or buy it from a composers' self-publishing commune based in New England that only takes orders through the mail. I did the latter, because I felt a lot cooler ordering in the mail than downloading.
This is not the only composition for speaking pianist by Rzewski, and he has made the genre something of his own over time. There are also pieces for speaking percussionist and "more traditional" pieces for piano and narrator.
The piece that I turned pages for, "Winsboro Cotton Mill Blues" is one of Rzewski's better known compositions (after
People United
) due to it showing up on high-profile competition performances such as the Van Cliburn played amazingly by Roger Wright:
The piece makes use of extremely large cluster tones, jazz and blues harmonies, and cacophonous writing. One of other pieces included in this set of
North American Ballads
is "Down By the Riverside" which treats the familiar religious tune to some creative development.
One of Rzewski's trademarks is his penchant for improvisation. A number of his pieces call for improvisation, often with instructions on length, style and shape. One notable improvisatory section is the cadenza with optional improvisation in his
The People United Will Never Be Defeated!
This colossal work is one of the most under-appreciated pieces of the contemporary period. The work, originally programmed as a companion to Beethoven's
Diabelli Variations
subjects the well known titular theme to a series of permutations, ending in an improvisation of indeterminate length and reprise of the original theme. Like the
Diabelli Variations
, or Bach's
Goldberg Variations
,
The People United
is an immense undertaking. The final performing time (depending on inclusion and length of an improvisation) is just under an hour and many of the variations are extremely virtuosic. Here is a recording of the debut of the piece by Ursula Oppens:
Beside the virtuosity required to play many of Rzewski's works, his pieces tend to be of considerable length, with the three works featured in this post totaling an hour and a half of music. Additionally his pieces tend to end quietly, perhaps purposely eschewing the idea of the performer as a celebrated and transcendent figure by refusing to end with the kind of flair that draws praise upon the performer and instead drawing focus to the art itself. Rzewski's egalitarian and socialist ideals permeate all of his works, from his choice of subject matter in
The People
, to the celebration of the working class in the "Winsboro Cotton Mill Blues" to his use of improvisation as a formal element. Many of his compositions are available for free online as manuscripts and as downloads (many with him performing the piano part).
This website
is an excellent place to explore his compositions.